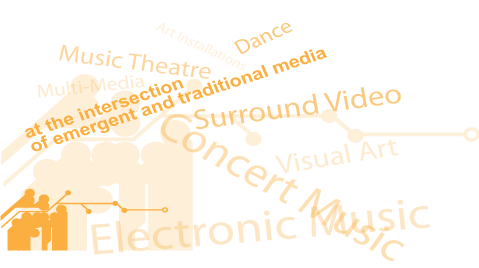 Salon Concert Series
Double-Take on Pamela Z
An exclusive home concert featuring the unique San Francisco based Pamela Z: a singer/composer/performer and media artist who has been mesmerizing audiences around the world for over twenty five years. One of the pioneers of live digital looping techniques, she processes her voice in real time to create dense, complex sonic layers in her solo works. The artist performed and spoke about her approach to music making. Food and drinks were served.
Thursday, December 2
6:30 - 9:30pm
Pacific Heights, San Francisco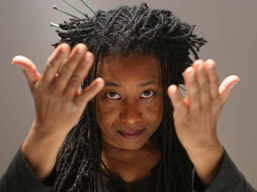 "... the great Pamela Z astounded in a suite of pieces from a tour of Japan...spotlighting digital delay, sampling madness, and body synthesizer. With a voice to melt the soul, the singer triggered sound with wrist actions and looped phrases into a wacky sound assemblage -- increcible! Multitracked four-bar phrases, added scat, and intantaneous overdubs were a 90's repsonse to Reich's "Come Out" and a post-modern swing-shuffle."
Carolyn Hautbois and Philip George,
20TH CENTURY MUSIC February 1997 Vol. 4 No. 2
Pamela Z
Pamela Z is a composer/performer and media artist who makes solo works combining a wide range of vocal techniques with electronic processing, samples, gesture activated MIDI controllers, and video. She has toured extensively throughout the US, Europe, and Japan. Her work has been presented at venues and exhibitions including Bang on a Can (NY), the Japan Interlink Festival, Other Minds (SF), the Venice Biennale, and the Dakar Biennale. She's created installation works and has composed scores for dance, film, and new music chamber ensembles. Her numerous awards include a Guggenheim Fellowship, the Creative Capital Fund, the CalArts Alpert Award, The MAP Fund, the ASCAP Award, an Ars Electronica honorable mention, and the NEA/JUSFC Fellowship. www.pamelaz.com